I am trying to schedule an appointment in May but I see that the May dates are all blurred out. Does that mean there are no open appointments in May or that May is not opened yet. I see that May is opened in Mumbai and Delhi. Do I have to book an appointment in Mumbai or Delhi for now and then re-schedule once Chennai is available? Can someone share their experience and recommendation
I just booked my Slot in May, They have opened June as well. forgot to take screenshot. Sorry.
@Bharat_Ane_Nenu, you can try to change the appointment, it will show the dates, but dont need to select. Just take the screenshot and cancel…
Hi Bharat,
Could you please provide the screenshot, we are checking from Last December every day, but not able find any slots till today

Thanks Bharat. Is your Dropbox?
Hi Bharat!
Would it be possible to see again if the April 1,2, 3 or 9th is available. I have a family emergency and the last eligible date for drop box is April 12th.
Only till June 5 ? will it be opened for june and july rest of the days anytime ?
could please tell what is the next available date for dropbox in chennai
Latest Availability on Aug 31, 2020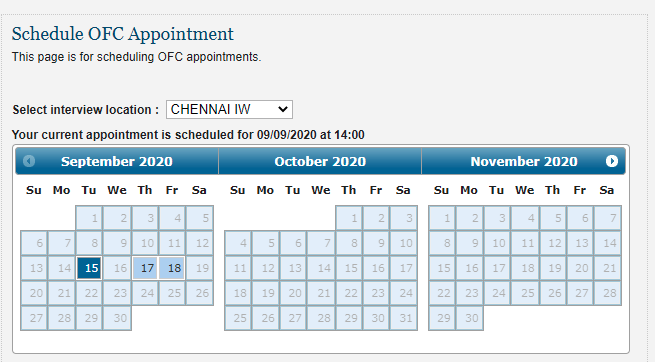 I am planning to travel to India and needs h1b stamped to travel back. Qualified for interview waiver. I would like to know did anyone got h1b stamped using dropbox and What are the available dates now ? I am holding the visa application payment for this info and my travel to India is because of an emergency. I really appreciate quick response. Thanks
Could you share us your experience ?
Has anyone been able to book the appointment lately? I have been trying to get my appointment in Chennai but not getting any time slots at all.
hi,
can someone help? i was trying to get a dropbox appointment for my son under the interview waiver program for children under 14 years but he will turn 14 in the next month. so any idea if i will be able to get a dropbox appointment in chennai within 1 month. my travel agent says no appointment is available for the chennai U.S consulate till next year. i am confused whether to go ahead and pay and find out,but if it is not available within the next 1 month, its of no use to me. does anyone know the wait times or slots available?
is it showing any available dates? i am looking for a date within 1 month.