Hi all, I am finally here to share my bitter experience which was happened with this so-called firm called "Upstream Global solutions". Firstly, instead of calling it a firm , it is better to call fradulent consultancy which loots the people who are in a desperate hunger of H1B visa. Secondly, it is a group of around 6 to 10 people who does this scam , among them main lead role has been take over by Mr.Prakash Kadumanchi who drives the group. He gathers H1B aspirers through his friend's network and fantasize them with his professional behaviour and draws attention towards paying amount for H1B lottery. They charge 3500 USD in which we have to pay 2000$ and remaining should be paid if our lottery picked and till here it is absolutely fine. Finally, here comes the terrible twist happened to me was, they refrained responding and i was kept on reaching out to them. One associate of their group sent one confirmation number and within few minutes another one sent another confimation number. And I doubted something fishy and asked them and they were said it was some communication mistake. Once the lottery results date arrived, I had picked in the lottery but organisation name, H1B confirmation entirely different this time. So I called this fraudster Prakash and asked, he said he applied with two companies and i am so lucky.
First of all , he comitted with us, "Upstream Global solutions" but sent an offer document with "Enlightened solutions". Second of all, they sent two confirmation numbers. Lastly, they sent lottery notification document with different company called "accelerated engineering" and different confirmation number. When i asked strictly about all these, he said do whatever you can.
Lesson learnt: Do not blindfold eyes and believe, enquire in and out then get in to it. And please don't believe this person.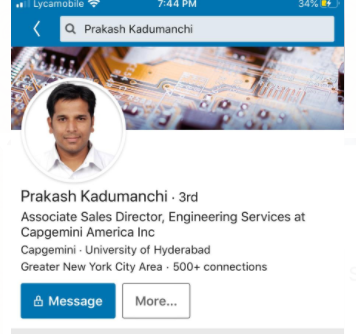 FYI, he is not working in Capgemini and not genuine.