Hi All,
I am unable to find Dropbox appointments,anyone has idea when we will get.
I'm in the same boat. I'm trying for appointments for sometime in Oct 2022 in Chennai, but I just keep getting this screen: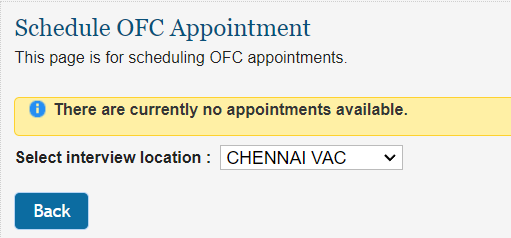 I even tried for other cities. Any idea when appointments will open? I've been seeing this for the last month. Both me and my wife need to get our passport stamped with H1 (and H4) transfer of status from F1 (and F2).
Thanks.
Hello,
I am also in the same situation couldn't find available appointments in any location. I have read in one of the site, they will re-open some slots for 2022/23 later in this year but not sure when. Please update if you find any slots. I'll do the same if I find any.
Thanks