Hi all,
I applied for an H1b visa (first-time) and I am eligible under the new interview waiver dropbox option (VWP) so used it. The case was updated yesterday to "Application received" but today it is showing "Refused".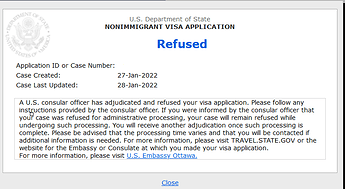 I have mailed all the requested documents with my application:
Passport
Photo x1
DS 160 confirmation
Appointment/Dropbox confirmation
I-797 approval
Employer verification letter
What is the case status while they are actually processing "Administrative processing"?
What exactly is a "Refused" status, is it like an RFE or more like a denial?
How will they communicate to me about the refusal letter via email or mail all the documents back?
Please suggest.
Thank you,
GK